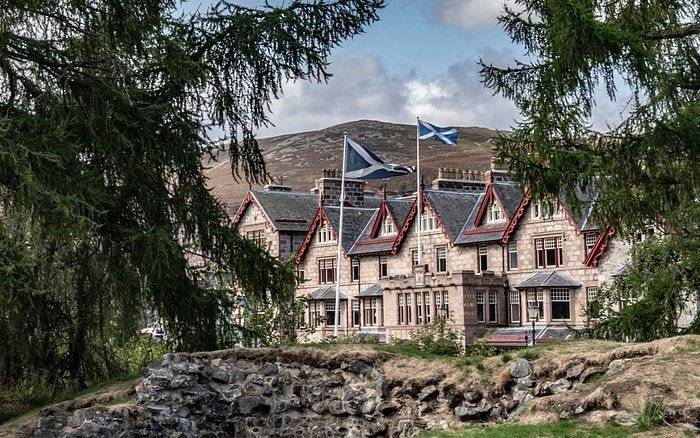 The Top Scottish Hotels Winning Awards
So say Conde Naste Travel Awards!
It used to be a great party ice breaker. When you got to exchanging dire Scottish hotel stories. The lonely hotel owner who sat down at a romantic dinner à deux and spent two hours moaning about his wife. The B&B owner who insisted all food must be eaten so guests would come armed with plastic bags to slide slimy, greasy fried eggs into their pockets. The hotel where no less than 4 spring-loaded mouse traps lay around the bed. The hotel bathroom with unapologetic signs saying 'USE SWIMMING BATHS IN TOWN IF YOU NEED TO BATHE'. And all the hotels still serving the glass of orange juice (from concentrate) as a starter like it was 1975…
So, when we heard that in Conde Nast Traveller Magazine's 2022 Reader Awards, four out of the top 10 hotels were in Scotland, we had a moment's sadness in case we were witnessing the end of an era… but in balance, we're pleased and proud that some really good players are emerging. Afterall it's only a couple of year since a Scottish travel company warned that 'overseas visitors were being put off by tightfisted, overpriced Scottish hotels', so excellence is much needed and where some lead, others are sure to follow. So, here's the rundown:
First up on the list, this was a tired, tartan-carpeted affair used mostly by Balmoral-spotting coach loads and serious walkers until it was bought by international gallerists Iwan and Manuela Wirth in 2015. They spent 4 years turning it into the most extraordinary place, sourcing everything they could locally, filling the place with authenticities - a watercolour by Queen Victoria, a collection of actual Jacobite glass, all sorts of unusual taxidermy, copious artworks. It's a mixture of eccentricity and tasteful 'Highland-core' that works. If you've got the cash.
Waldorf Astoria Edinburgh – The Caledonian 
Otherwise known as 'The Cally'. Yes, times have changed. Out with the wood panelling, thick tartan carpets and matronly Edinburgh vibe. In with the greys, tasteful blues and cocktail-inspired courtyard. It's light, buzzy and very international with all the things you'd expect such as cosy-ish fireside areas, spa, gym, pool and tastefully-done rooms, just the right side of International hotel chain so they feel upmarket and not corporate. There's now a fun and buzzy feel to the place.
InterContinental Edinburgh The George
Or just the George to you and I (international hotel chains do add a touch of luxe to our hotels but damn they make for long names). The place has lost its antique sideboard, New Town, had a bit of an InterContinental facelift but it's pretty darn nice. The place has good bones. Stunning Georgian exterior (it's a collection of townhouses) and an overall feel of luxury that comes from the spaciousness, huge bedrooms, wide open public rooms and the best location, as you stroll out onto the timeless charm of George Street.
The most dramatic of the lot, a large Victorian Gothic creation in Ayrshire which could double  as a film set (starting with Brooke Shields Netflix classic A Castle for Christmas…). It's a  fine-looking castle, imposing without being foreboding, a long, sweeping drive and impressive grounds. The bedrooms are amazing, some larger than a one-bedroom London flat. Don't fancy the heating bills but not our problem. The decor is characterful and has been spared the Renaissancy, Disney, fantasy castle hatchet job that people can go for when given a Scottish castle hotel to kit out. 
So four out of 10 is not bad going. Still, if you go, don't  get too above yourself. Play a bit of the old "Remember the one where…" for old time's sake. Which reminds us, did I tell you about the cousin who had the holiday job in the Campbeltown hotel, where they told her to iron the bedsheets on the bed between guests, unless there were visible stains… 
*All true