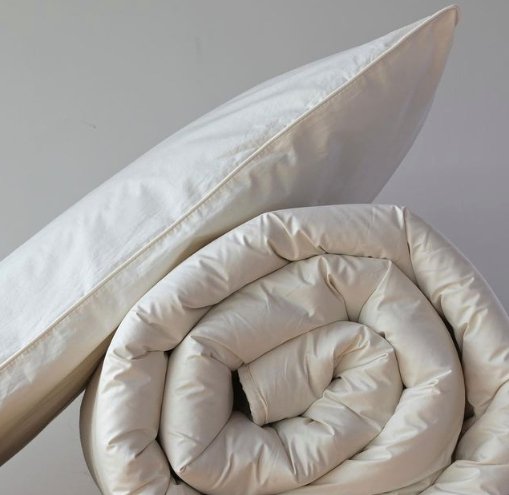 THE BEDDING BRAND TACKLING SUSTAINABILITY & THE MENOPAUSE
What do sustainability and menopause have to do with a small business on the north coast of Scotland?
SUSTAINABLE BEDDING
It's a business making sustainable bedding which helps women struggling with menopause symptoms. Elgin-based Ava Innes makes duvets and pillows that are a blend of cashmere guard hair and Scottish wool.
Guard hair? Cashmere is highly prized but only 30% of the fleece clipped from the goat is used in mainstream products. The long-haired fibre which protects the soft underside is often chucked or used for industrial purposes.
Ava Innes founder Joan Johnston understood the value of the guard hair's warmth and naturally weighted comfort and wanted to put it to use.
LUXURY BRANDS
She worked for over 20 years with British and international brands such as Burberry, Ralph Lauren and Dunhill so she is well placed to develop a luxury brand. She worked at Johnstons of Elgin before launching her business. After working for so many years in an industry which is known for its poor sustainability, Joan was determined to create a sustainable product. 
MENOPAUSE SYMPTOMS
So where does the menopause fit in? Joan has spent years developing her cashmere duvets. She's run various trials for them, sending out samples for people to sleep under and report back. When the results came back, Joan saw there was one recurring bit of feedback. Over 93% of people said they were sleeping better under the Ava Innes duvet. Why? The feedback centred around temperature.
Over 60% of women experience sleep disturbance during the menopause, particularly due to overheating. The unique filling of the duvets and pillows (cased in 100% cotton) is known to have temperature regulating properties due to the natural fibres used (the magic of wool).
IMPROVED SLEEP 
In one test, Joan sent out duvets to 16 women to trial and 12 came back with a positive response, saying the duvet helped their sleep. Better still, an amazing 11 bought a duvet on the back of it. And this is a luxury product we're talking about. There's been feedback from a wide range of customer, young old, male female. But  feedback from women struggling with menopausal sleep problems stands out.
I did the trial, and I can say, the duvet's temperature regulation was a surprise. It didn't feel as fluffy as my normal duvet, so I worried I'd be cold. Nothing of the sort. I was cosy, I was cool, I was comfy, I was cocooned, I slept divinely.
I don't get anything for saying it. But I like the Ava Innes story. I'm interested in their drive to achieve a sustainable product, using a fibre that's usually overlooked. What's even better is they're producing a top-class product. The funny thing is that Joan didn't set out to create a product to help women struggling with menopausal overheating and night sweats. But she's got one. And it will be fun watching the business grow.