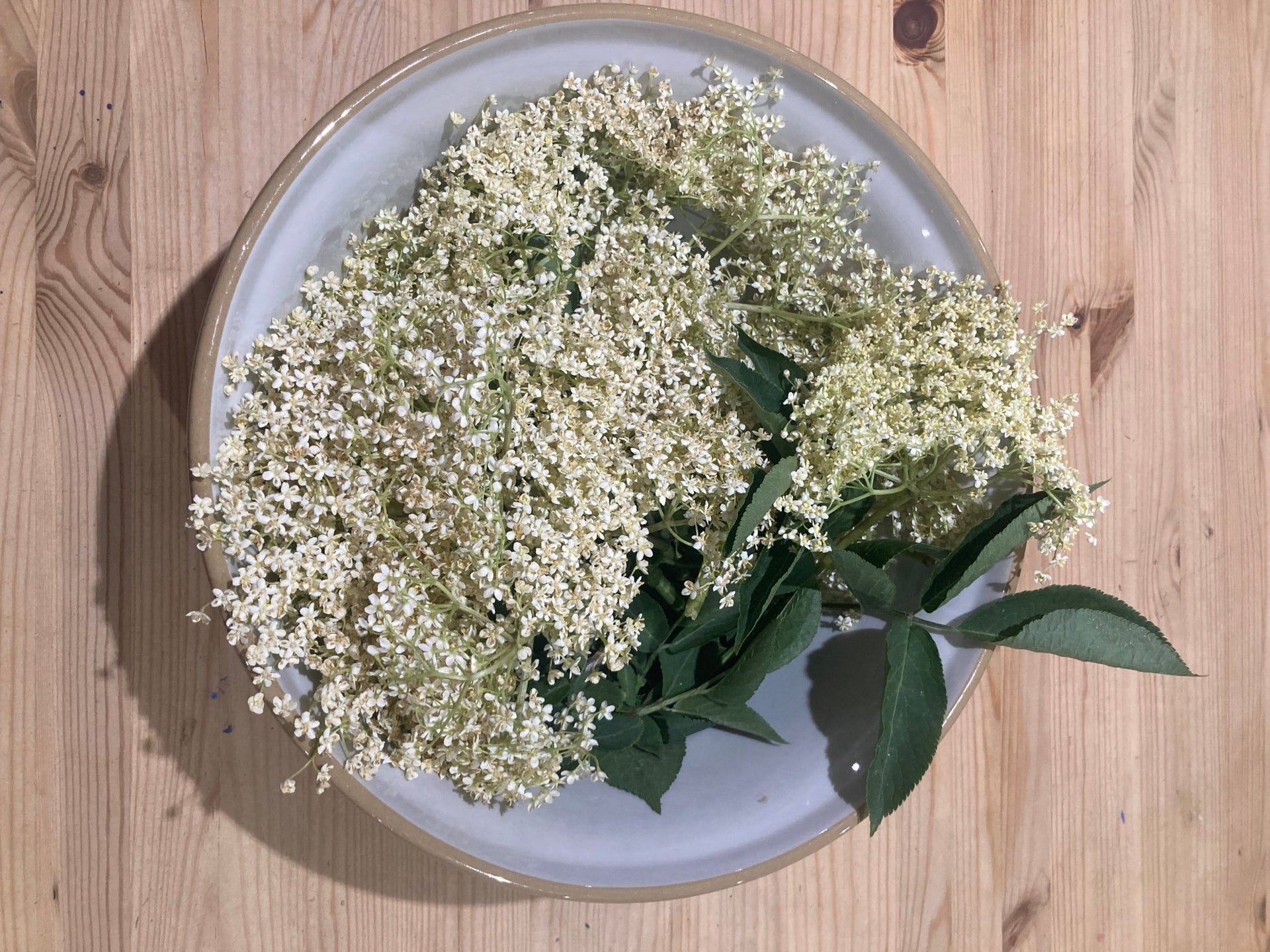 HOW TO MAKE THE BEST ELDERFLOWER CORDIAL
If you want a great summer drink while also flexing your #cottagecore credentials, this elderflower cordial recipe is the best. Everything is easy. The flowers are easy to pick and you don't need to cook. Throw it all in a bowl, leave overnight and ta-da! You have summer in a bottle. A bottle which, when you pull it out on a dark January evening gives the most perfect lift to the spirits. And yes, you can add it to actual spirits if you're partial to a bit of flavoured gin!
Elderflower is good for your health. It has antibacterial and antiviral properties, it can help alleviate some allergies and boost the immune system. I find a large glass helps with a migraine. Though a lot of sugar goes into this so that sort of knocks it off the 'health food' list! But between a glass of this over a can of fizzy drink surely the cordial wins every time?
HOW TO IDENTIFY ELDERFLOWER:
If you're not sure what elderflowers look like, they're out now all over Scotland and the smell is so distinctive and sweet. Look at these pics. Don't confuse it with cow parsley, water hemlock or hawthorn! But once you know it you won't forget.
INGREDIENTS FOR 1 LITRE:
10 large elderflower heads
(in full bloom, no bead-like buds or brown edges)
750g white granulated sugar
25g tartaric acid
1 sliced lemon
1 litre boiled water (must be cooled)
Extra bits: sieve, funnel, glass bottles.
HOW TO MAKE THE CORDIAL:
Mix the cooled water, sugar, tartaric acid and sliced lemon in a large bowl or saucepan.

Add the flower heads, submerge, cover and leave for 24 hours. Stir occasionally to help the sugar dissolve.

Sterilise glass bottles (in an oven, Aga, or dishwasher's hot cycle so long as there's no food in there).

Take out the elderflower heads and lemon and strain the cordial into the bottles. I use a funnel and a sieve or thin-mesh tea strainer to sieve out bits.

Store in a cool dark place. Mine lasts over a year if unopened.