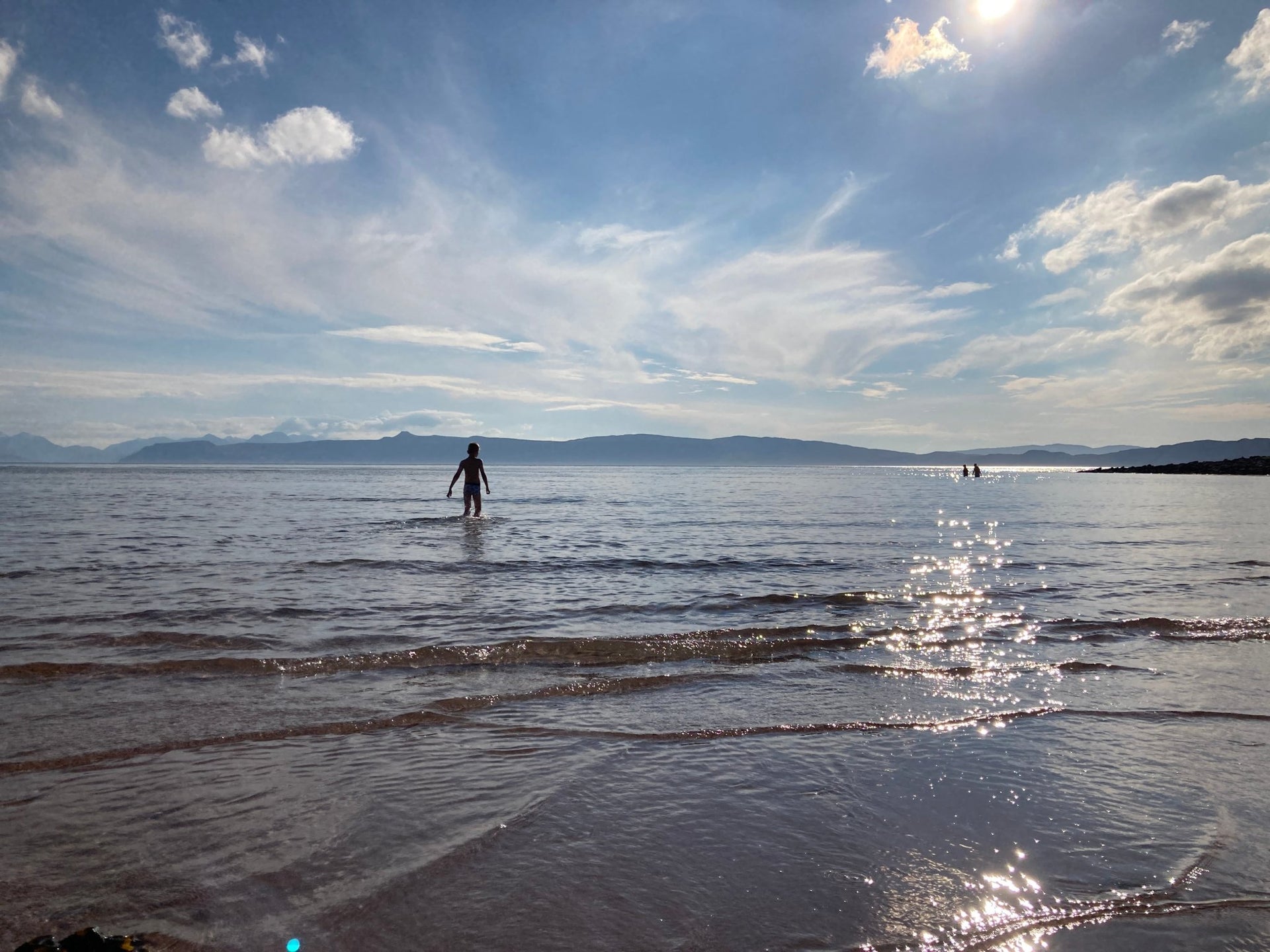 Places to go wild swimming in Scotland
If you're a Scot with vivid childhood memories of being forced to swim in dark, brackish lochs or icy seas (and that was August!) its recent rebranding as #wildswimming is great. Instead of it being about sadistic parents refusing to dish out chittering bites (Penguin/Tunnocks/Blue Riband) until you'd had a dip, wild swimming conjures up images of nature-loving free spirits boldly striding into the waves… and so on.   
It's partly about the numbing effect, part the post-swim high. Which is interesting. Afterall, don't you get a high after surviving most terrible, painful things (exams, childbirth, torture…)? Because they're over?
Though it's also about the kit. Then, there was shivering with a threadbare hand towel that doubled up as the dog towel, a towel so small it draped pathetically across your shoulders. Now, there's that most luxe of swimming status symbols, the Dryrobe, a sort of waterproof tented duvet which will coax your numbed limbs and goose pimpled skin back to life. 
But robe or no robe, it's damn impressive, when you're standing on a beach in winter, shivering in two coats, pockets stuffed with handwarmers, to see a couple saunter past you and stroll into the icy waters. Clad in swimsuit and bobble hat, not a scrap of neoprene in sight. No crazed howls, no expletives, no regrets. It's a supremely zen thing to witness. Like someone slipping into a warm bath, they're that chilled. And literally.
The pandemic led many to the water, unable to go further afield and with pools closed, many began to explore closer to home including the rivers, lochs and sea. And for many, it's stuck. It's not so much a trend as a movement, a wonderful one, all about community and inclusivity. 
All movements need their champions and Vicky Allan and Anna Deacon are two such flag bearers. They met at a talk on Arctic explorer Isobel Wylie Hutchison (amazing woman, more about her anon) and connected over their love of an outdoor swim. Anna had started photographing outdoor swimmers and asking them who they were and why they did it. A pattern emerged. So many had stories about loss, pain, mental health issues, all situations which these swims seemed to help. Vicky was fascinated about this vibrant little-talked-about community bobbing about on Scottish shorelines. The result is a wonderful book, full of stories of sadness, survival, inspiration and community. And the photographs are superb. 
Beautiful portraits of everyday folk who talk about swimming and how it gets them through the days. Women walking barefoot over snow in bikinis to the water. Others breaking the ice so they can plunge into a frozen pond. Solitary swimmers, sociable swimmers, city beaches, secluded lochs. But more than anything the book is a celebration, full of joy and inspiration. And it's contagious. Every time you open it, a little part of you will vow to give it a go. 
…and when you do, the pair have published another book, The Art of Wild Swimming Scotland. This is more of a guide. What to do, what not to do, what you need, tips, advice and crucially where to go. Once again, the photography is stunning, featuring magical hidden pools and white sandy beaches. These two make it look so inviting, so 'why-wouldn't-you' that we can guarantee many of you will be tempted to give it a go, you just might need a bit of neoprene to start you off. And that's okay too, it isn't a who's-the-toughest contest. Until you do take the plunge, you can swim vicariously, through these beautiful pages. 
Taking the Plunge by Anna Deacon and Vicky Allan
The Art of Wild Swimming Scotland Anna Deacon and Vicky Allan