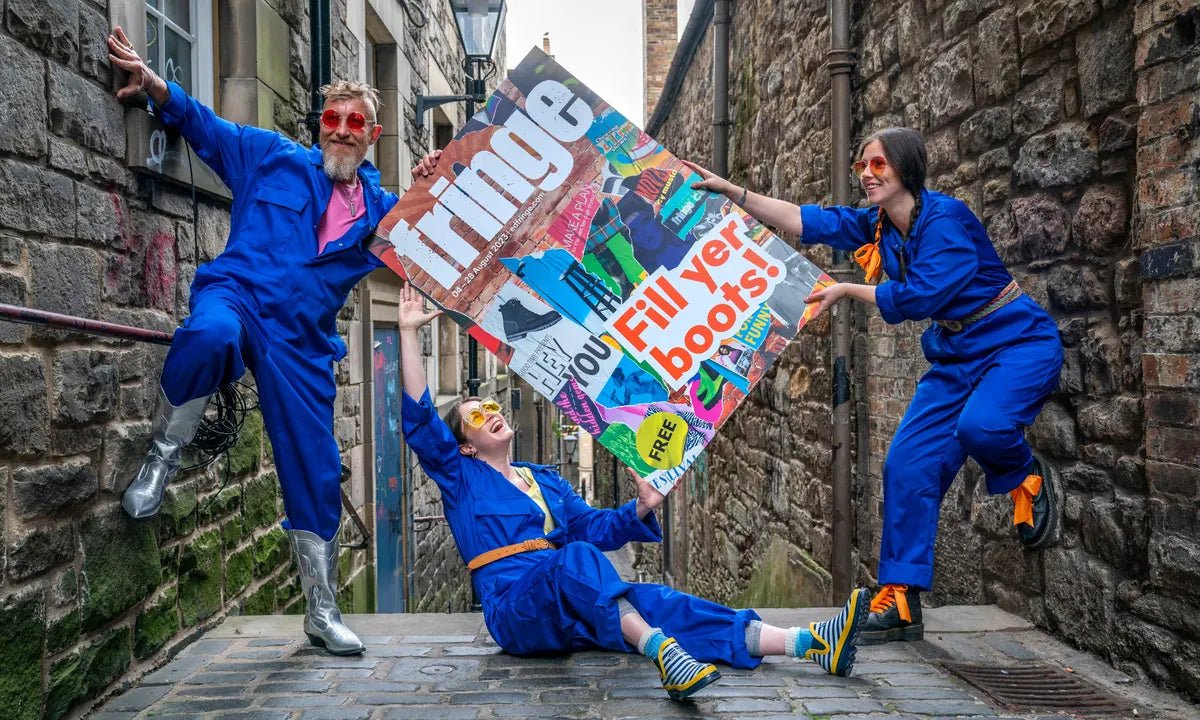 7 BEST THINGS TO DO IN THE EDINBURGH FESTIVAL
With the Edinburgh Festival in full swing, I've been out and about exploring. Here are my seven top things to do in Edinburgh this August. Alternatively, throw caution to the wind and just walk, wander, wing it and watch whatever you find.
SMASH HITS: GRAYSON PERRY
The biggest ever exhibition of Grayson Perry's work, the artist who started by taking evening classes in pottery and went on to win the Turner Prize. Punk, sex, counterculture and more, on prints, pottery, and some seriously mind-blowing tapestries. I loved it, so much so I'll have to go back for a second viewing.
www.nationalgalleries.org/exhibition/grayson-perry-smash-hits
AFRIQUE EN CIRQUE
A wonderful, vibrant, swirling, whirling, colourful show with extraordinary scenery, costumes and staging. Inspired by daily life in Guinea, a group of uber-skilled acrobats pull off gravity-defying moves. Dance, human pyramids, eye-popping contortions and flippy gymnasticky things, all with great percussion and Afro-jazz. A shot of adrenaline and a feast for the eyes.
https://tickets.edfringe.com/whats-on/afrique-en-cirque
SCOTTISH WOMEN ARTISTS: 250 YEARS OF CHALLENGING PERCEPTION
This lovely exhibition celebrates the work of women artists who've challenged and shaped the contemporary art scene in Scotland. Works by The Glasgow Girls, Elizabeth Blackadder, Joan Eardley, Anne Redpath and more. The lunchtime talk is good, short and engaging. And you can whizz up to the gallery to look down at all the work going on on the looms, in what was the old baths in days gone by.
https://dovecotstudios.com/exhibitions/scottish-women-artists 
DAZZLE@DOVECOT
A fantastic place to discover some great jewellery design, at Dazzle you'll find over 55 contemporary jewellers showing over 2,000 pieces all for sale. From bold statement pieces to elegant classics there are handmade pieces in a range of materials, from gold and diamond to plastic and industrial rubber. Also a few limited edition prints and a textile maker showing handmade scarves.  
www.dovecotstudios.com/exhibitions/dazzle-dovecot-2023
TRON MAKER'S MARKET
While we're on makers, the Tron is a small but good maker's market based on the Royal Mile. About 20 or so stalls selling really good quality craft and design, a few I have my eye on like the prints by Between the Woods and the Sea and stunning knitted pieces by Hilary Grant. Definitely pop in. A good calm escape from the throngs outside too, with a lovely bench where you can have a quiet sit and people-watch for as long as you like…
SHOWSTOPPER! THE IMPROVISED MUSICAL
Top show this. Really good. Improv at its best, you get audience participation, music, acting, creativity, noise, hilarity and genius. A different plot every night, as the audience provides the prompts for what becomes the script. This lot are top actors, musicians and comedians too, proper laughter and ridiculousness. It's extraordinary how they pull it off but they do, absolute pros, the best night out I've had in ages.
www.pleasance.co.uk/event/showstopper-improvised-musical
FREE SHOWS, ROLL UP, ROLL UP!
The great thing about the festival is that the shows aren't as expensive as a normal theatre trip. Still, there's always a thrill to a freebie. And there's been a good selection of Fringe shows that are free. I can't work out why they're free, because lots are very good – I'm not just talking street acts, but proper acts in seated venues too. They're always a great option if you've the time and inclination  to take a punt and see what you get.
AND THE TWO THAT GOT AWAY…
I was desperate to see two other comedies, Kathy & Stella Solve a Murder supposed to be amazing and Austentatious, another improv, based around, yes, Jane Austen. But so good they'd sold out fast. Ones to look out for if they crop up at a theatre near you…