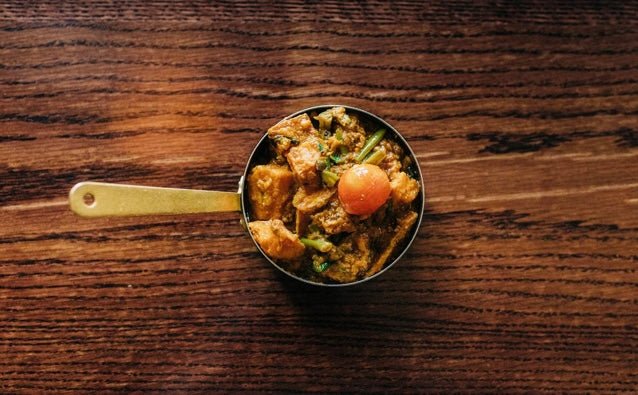 6 OF THE BEST GLASGOW RESTAURANTS
I used to think I was an expert on Glasgow's food scene. All the grandparents lived there so I spent a lot of time checking out eateries. On reflection, my food expertise was fairly niche - the best bakeries for potato scones, crumpets, doughnuts and some top ice cream shops (a rectangular slab of vanilla in two wafers at Colip in Milngavie every time, bliss). But when we made a weekend of it a couple of years ago, we scrabbled around in the city centre, traipsing from one mediocre burger bar to another. We hadn't done our prep, but I knew there had to be more. So on a recent jaunt to Glasgow to meet some makers, I sought out locals, both old-timers and newcomers, to tell me about what's hot and where to go for what. Here are six of the best but there are six more just as good, and six more after that. Glasgow may have been the butt of all food jokes for oh so long but scratch the surface and the food scene is exciting, diverse and fun.
BEST FOR: SCOTTISH FOOD IN A BOHO SETTING 
Always on a list of classic Glasgow restaurants, it's hard not to like this place for its name alone. It's been going strong since the 1970s though don't expect a chippy, as I once did many moons ago, you're more likely to get roast pork belly or sea trout than anything battered. The place is fun, boho, with ambient lighting and a rainforesty vibe. It's contemporary Scottish cuisine, but if you came by haggis they'd do something clever and delicious with it, and they do game particularly well. The family recently sold The Chip to a pub chain but that hasn't dimmed its charm. A friend is a fan of the 5-7pm pre-theatre menu, she never goes on to the theatre but at £35 for two divine courses she says it makes for the perfect week-night, post-work catch up with friends, genius!
BEST FOR: MICHELIN STAR DINING 
As with any Michelin star restaurant this place does divide opinion. I had one fan who was all over it. Amazing, Scottish sourced food, one set tasting menu so you don't need to choose, a bit of a theatre experience but serving staff not poncey… and fantastic food, beautiful, the kind you'd never cook for yourself, half of which you can't recognise but tastes amazing. Another was less impressed, with a story about the lack of menu options - the £140 tasting menu was the only option - and the kitchen wouldn't substitute her companion's lamb for chicken. Though fair enough I say, it's a Michelin start gaff not your mum's kitchen. Their website states: 'We kindly ask that you visit us with trust in our team and as such we do not cater to dislikes'. I find this highly refreshing and am thinking of putting this policy into place in my own home.
BEST FOR:  SOUTH EAST ASIAN FOOD (AND COCKTAILS!)
With a menu created by Julie Lin, previously owner of Julie's Kopitian, a cracking Malaysian place, ga ga is a stylish, fun place with a short but excellent menu and very good cocktails. Taught and inspired by her Mayasian mother, Julie's dishes are fragrant, exciting and around here, fairly unique. Her stand out dishes include the prawn toast, the Singapore soft shell crab and of course, to anyone who's a fan of Malaysian food, the nasi goreng, an absolute classic and is the ultimate comfort food, with added kick. They've done the place up beautifully, with old tiles, greenery, colourful walls and the place has an overall buzzy yet relaxed vibe.
BEST FOR: ECLECTIC SCOTTISH FUSION (IS THAT A THING?)
Everyone loves the atmosphere of this place. Our scout said it gave her that lost weekend in your 20s when you stumble upon a bar in Dublin/New York State/Argentianian bar and you lose all sense of time feel.. A very specific vibe, but one I'd travel for. The name is Gaelic for 'to wander' so while the food has a Scottish focus, the actual dishes are imaginative and eclectic. We love the small plates and big plates option, saves that 'can I have two starters instead please' and they do, we hear, a mean weekend roast. Quite a meaty menu so perhaps not one for a group of vegans. This place is stylish with stripped wood and a relaxed bar and you can have a good night here without breaking the bank. Oh some really good craft beers too.
BEST FOR: TOP INDIAN FOOD IN AN AMBIENT SETTING 
The jury's out on whether the restaurant - wood panelling, Rennie Mackintosh style chairs, old world charm - or the cafe - bentwood chairs, racing green tiles, framed photos on walls - is better. What the jury does agree on is that Mother India is the best curry house around. I've eaten in its Edinburgh joint a few times and without fail it's a winner, fantastic staff, great food. Chana Daal, tick. Slow cooked chicken curry, tick. I'm told the ginger, crab and prawn dosa is 'awesome'. When an Indian restaurant comes together, with location, food, service, ambience, this place and all its sister restaurants (five in all - Mother India, Mother India's Cafe, The Landsdowne, Mother India's Cafe Edinburgh, and takeaway option The Den) is what you get. 
BEST FOR: SCOTTISH PRODUCE WITH A MODERN TWIST
A beautiful place that feels so Scottish, so Glasgow but also so contemporary and cool it could be in downtown New York, we're told by someone who's been going since the place opened nearly a year ago. Their thing is local produce, foraged ingredients, artisanal producers, which is of course right up our street. Run your eye down the menu and I challenge you not to feel intrigued and excited by nearly every choice. Better still I can't remember when I've seen a better vegetarian menu with not a butternut squash, not a goat's cheese tart, not a tofu burger in sight, just imaginative dishes using great ingredients. The menu's short which frankly is a bonus as I can no longer be bothered with choosing from 30 main dishes (when I can I'll go to the supermarket).