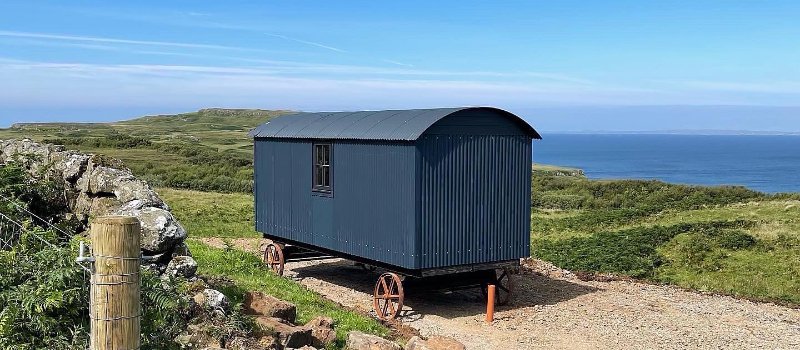 7 OF THE BEST SHEPHERD HUT HOLIDAYS IN SCOTLAND
A stay in a shepherd's hut is the perfect thing if you love the idea of camping but aren't so keen on the camping part. Perhaps it's the Wendy house vibe we never grow out of. The idea of a simple, pared back space is more appealing than ever when we're navigating busy, complicated, grown-up lives. It's also the setting. You don't find a Shepherd's Hut on a bypass or crammed into a lot of 500 other huts, do you? The inference is bucolic, peaceful, off-grid.
I don't like my shepherd's huts too swanky. Those pictures of David Cameron in his perfectly Farrow & Ball'ed model, with it's all shiny fittings and chic interior was too much. There has to be an element of rustic edginess, not too polished, matchy-matchy good taste. And it isn't just about the hut. Location is key (though we did laugh at the ex-work colleague's disgust when she booked a 'relaxing shepherd's hut retreat in leafy Surrey' to find the thing was plonked in the back garden of a suburban house in Staines…).  
But none of that here. I've seven lovely shepherd's huts, all of which I've heard good things about.
1. THE BREWERY ONE
Black Isle Brewery Shepherd's Huts
There's a very cool, higgledey-piggledeyness to this one, it feels handcrafted (it is handcrafted) but cosy and well-made at the same time. The inside is a quirky mix, with little stained-glass window, a recycled butler's sink, a rough-edge wooden frame around the double bed at one end and lots of decorative finishes that come together well. The hut overlooks fields of horses, sheep and cows which you can watch from the veranda (fancy). As the name suggests, it's part of the brewery so you aren't isolated in the middle of nowhere if that's what you're after but on the plus side you've easy access to cold, freshly brewed beers and a setting in which to enjoy it!
2. THE BORDERS GYPSY CARAVAN ONE
Roulotte Retreat, Scottish Borders
Yes, I know it's not officially a shepherd's hut, but I think we can agree it's too good to leave out on a technicality. Just down the road from me, this Himalaya-themed gypsy-style caravan sits in a wildflower meadow beside wildlife ponds, below the Eildon Hills in the Borders. The interiors are quirky (eclectic quirky as opposed to a dysfunctional quirky) with drapes made out of exotic fabrics and handwoven rugs on the floor. There's a woodburning stove, a traditional built-in roulette bed, terrific views, and very exciting - eco hot tubs… bliss.
3. THE LUXURY PERTHSHIRE ONE
Curlew, Atholl Estates, Perthshire
How could we not want to stay here, a hut called Curlew, the bird featured in Made Scotland's logo? This fantastic hut is in Tulliemet Valley in Perthshire, sitting under ancient oaks on an old shepherd's hill track. The views stretch out across Strathtay and beyond. The huts themselves (a second hut, Lapwing, is nearby) are far from roughing it, with beautiful linens, quilts and a very comfy king size bed. Oh, and a hot shower, underfloor heating - and log burning stoves if the level of sophistication that underfloor heating provides is a bit too much (though you won't be that purist in winter). They're surrounded by fields and there are hammocks outside, a firepit and cosy sheepskin rugs draped about.
4. THE KIDS CAN STAY ONE
Muiredge Shepherd's Huts, Perthshire
This one is shiny new inside all gleaming pine and solid fittings – which you'll be glad of if you've kids in tow. As the owners at Muir Edge say, it's a 'take on a traditional shepherd's hut', in that there's a toilet and shower room, not to mention solar powered electricity (it's off-grid) and that most age-old shepherd accessory, a USB port! The bonus of this place is the two beautifully made kids' beds which fold down above the double, so it fits four. Unusual, as most shepherd's huts are '2 persons, no kids'. There's a BBQ and a firepit too. Oh and for a smaller, more basic experience I love the old railway carriage nearby, it was once a vegetable transport wagon,  running from Lanark to Glasgow but has been completely refurbed as a charming hut for 2. It's cosy, comfy and has great views.
5. THE SIMPLE SKYE ONE
Set in the old crofting village of Heaste, not far from the Skye bridge these huts (there are 2 but not on top of each other) are cosy in a lovely, rugged, setting. A bonus, dogs are welcome too. The huts have a wood burning stove, cosy double bed and nice bed linen. Less swanky in that there's no toilet and shower in the hut but I like how this makes it feel more back to basics.  Unless it's the middle of the night in a gale and I've swigged 5 mugs of tea before bed, as I've been known to do. The toilet, shower plus washing and drying things are in the entrance hall to the owner's house a stroll away but they sound charming and very discreet so won't be in your face - same goes for the two resident donkeys. And they deliver a delicious breakfast every morning (owners not donkeys).

6. THE BATH HUT ONE
Craigduckie Shepherd's Huts, Fife
There are two huts, not that far apart so a good one if there are a few of you or a family with teens. If you're not sure which one to book, I'd say Ewe's View all the way. It's the one with an open-sided bath hut. Two large baths sit side by side, there's copious hot water, fairy lights so you can lie in the bath and look out at the stars or if it's light, out towards Loch Fitty. These huts have been done so beautifully I'd say they're more shepherd's des res than hut but I'll happily shelf my wish for rustic just to enjoy this lovely space, with its Shaker kitchen, good bedding, fire pit and more. Both huts have the option to fold down two kids' beds above the double bed so can sleep four (only kids can use the fold down beds) and another nod to families is that kids can get a tour around the farm, help feed the animals and so on.
7. THE OFF THE BEATEN TRACK ONE
Treshnish Shepherd's Hut, Isle of Mull
As with all the best finds, this one's of the beaten track. Based at the north-westerly end of Mull, near Calgary beach, one of my favourites with its curved bay and wide stretch of white sand. This is a real peach of a hut, simple, wild, back to nature. There's an outdoor bath and wood burning stove/pizza oven and inside is a 'small double bed', a 'tiny' wood burning stove and one 'very small' dog is allowed. So, you get the picture. It's a cosy wee place. I like that you can't drive there, that always adds as sense of adventure. You park at the farm and walk half a mile down the farm track and 400 yards across a field. Wheelbarrow provided. And the views of woods, hills, sea are, as you'd expect, incredible.