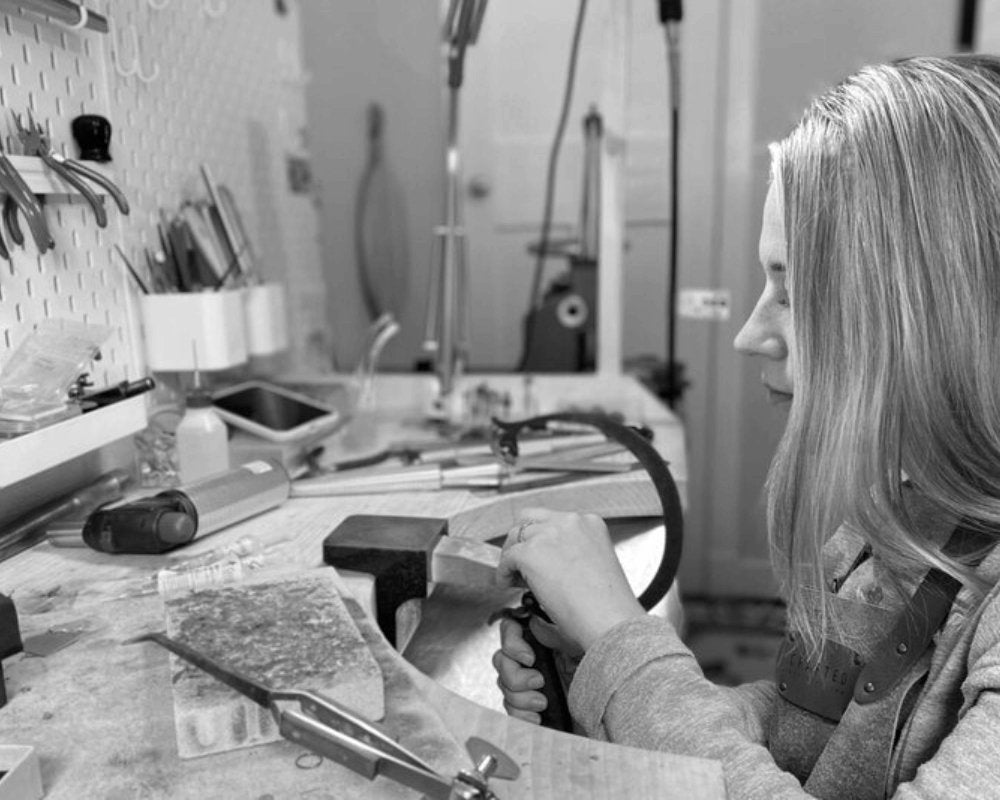 Gemma Sangster, Darte Jewellery
It was an evening class in silversmithing that sowed the seed for Gemma's classic, contemporary creations, as it sparked a passion for  jewellery making. Not that she was new to artistic creations,, far from it. Gemma graduated from the Glasgow School of Art with a degree in textiles and had spent several years working in commercial jobs as a designer in the homeware industry. But once she'd discovered silversmithing, there was no turning back, and it led to her setting up Darte in 2016 with a studio on Glasgow's Southside. 
Gemma uses traditional silversmithing techniques such as hand forming and shaping, creating beautiful and one-off textures, as well as lost wax casting as part of the process of creating each individual piece. Her designs range from understated minimalism to bold, playful and tactile, but with everything she makes, her focus is on capturing a timeless appeal and everyday elegance, with quality underpinning each finished piece. Hers is the work of someone who has truly found their niche. The appeal of her collections lies in the balance they achieve between minimal and decorative. Her collections are so diverse there's always something to suit every jewellery taste, from the understated classic type to those who veer more towards statement pieces. Gemma takes inspiration from art deco design, symmetrical shapes and linear designs. And for her, sustainability is key. This is why she uses recycled gold and silver and sustainable packaging for a minimal environmental impact. She's now juggling two little ones with the designing, but nothing's stopping her and she has exciting plans for some interesting new collections this year.